Vom Bauernhof auf den Tisch
100% Echt. Frisch. Authentisch.
Einziger Ursprung. Alles natürlich. Non-GMO.
Frei von Pestiziden, Zusatzstoffen und Transfetten.
Vegan und glutenfrei.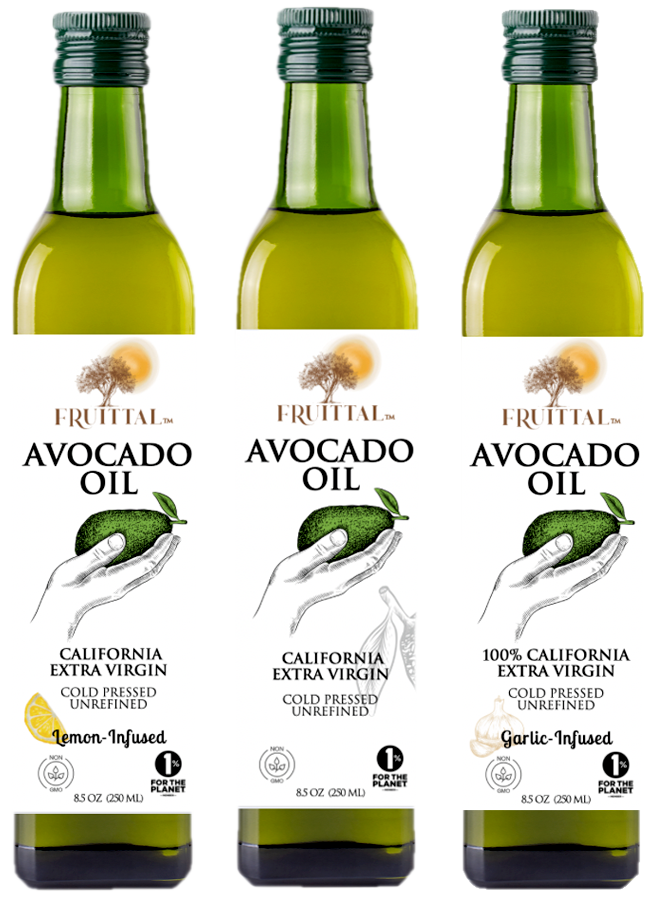 Fruittal Extra Virgin Avocado Oil is unrefined and cold pressed exclusively from the flesh of high-quality Hass avocados that grow in the fertile soil of California, state U.S.A.
Das milde Klima dieser Region, der sonnige Himmel und reichlich mineralische Böden verleihen Avocados ihre charakteristischen Eigenschaften, die es dem Avocadoöl ermöglichen, eine weiche Konsistenz, eine satte grüne Farbe und ein einzigartiges fruchtiges Aroma zu haben.
Gourmet-Köche? Lieblingsöl
Hoher Rauchpunkt 450 °F (232 °C)
Vorteile von Fruittal Avocadoöl
Der köstliche Weg zum Wohlbefinden!
Auf der Suche nach einer leckeren und gesunden Alternative zu Butter und herkömmlichen Speiseölen?
Enjoy the flavor of freshly sliced avocado with the wholesome goodness of our premium, extra virgin, and cold-pressed avocado oil – a truly heart healthy oil option!